[NEW] Roblox Arcade Empire All Redeem Codes Dec 2022
Posted By:
admin,
Updated At:
2022-11-30,
Views:
855
If you're looking for the latest Arcade Empire codes and don't want to spend time on YouTube videos, you're in the right place. here we've put together all the working codes at the moment, grab them and enjoy some nice new year's gifts.
How to redeem codes in Arcade Empire
Codes in Arcade Empire can only be used once. Once you've got hold of any codes, simply follow these steps to claim the rewards:
Launch Arcade Empire and enter the game.
At the bottom right corner of your screen, click the gear icon to open settings.

Click Type Code Here and type or paste your code. Then click Enter to enjoy the exclusives.

Working codes
The following codes have been verified. We don't know when they'll expire so act quick before it's too late.
| | |
| --- | --- |
| Code | Rewards |
| russo (New) | A Russo Punching Bag |
| Update | Free in-game items |
| release | $50 and a prize claw |
| Tweet | A bonus |
| Mirrors | Free in-game items |
How to get more codes
Arcade Empire is just out, and there right now aren't so many ways you can get more codes. Though we'll keep an eye out, you can follow the official Twitter to always snatch the latest codes. This is currently the best method to grab new codes.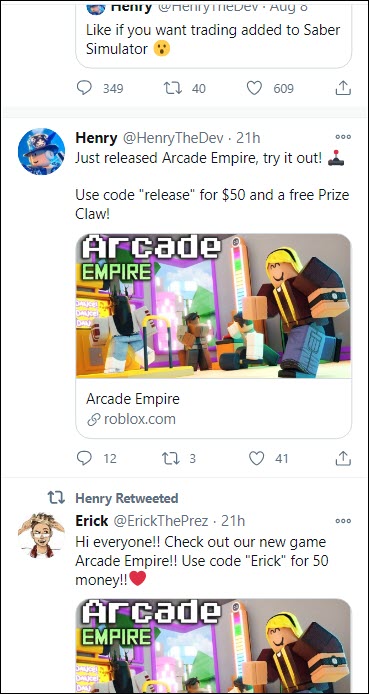 Bonus: codes for top Roblox games

Bonus: Robux deals
Want to buy some Robux but don't know where to begin? Don't worry, we've got you covered. Down below we put together some popular platforms for your Robux needs. Simply choose the one that suits you the best.
(Note: Rates updated in June 2021 and might vary in time and countries. Third party platforms like RBX.place might run out of stock occasionally.)
More Games:
Back to Codes